2020 Shannons Sydney Classic - Sydney Motorsport Park -

Cancelled
The Committee of the CMC has decided to cancel the Shannons Sydney Classic event for 2020.
We tried all avenues including looking for available dates later this year but all came to nought.
Even when the so called NSW Stage 3 relaxation comes in around September they talk about a maximum of 100 people gathering.
That is about 4,900 short of the crowd we had there in 2019.
And with close to 2,000 vehicles being driven to the SMSP that is a crowd of at least 2,000 alone. Even if we specified "driver only" rules.
And that would not be a popular idea with our family orientated membership.
How we could practice distancing rules when everyone is wandering about looking at the great cars and displays is a big question as well.
Let alone the 50 garages with the trade and club displays. A lot of close contacts would happen as folks would not be concentrating on who is around them.
Very sad that this is the first cancellation in the 56 year history of the event.
It started at Warwick Farm in 1964 when the five clubs which started the CVV&TMC back then got together for a car show at that famous horse and car racing track.
We now have our 200th club applying so it has grown considerably since then.
From our annual returns the count of individuals in those clubs numbers over 32,900.
We hope that we can continue our long association with Shannons when 2021 rolls around and we can all get out from under this Covid Cloud.
Terry Thompson OAM
Chairman – ACMC NSW Ltd
President – Council of Motor Clubs Inc
*******
Full details are being worked out to hold over preordered tickets for 2021, or other arrangements that may suit some clubs.
All options will be circulated shortly to clubs. Please be patient as we work out the details.
This page is updated with new information as it becomes available. Check back for updates.
The CMC is proud to support Prostate Cancer Foundation of Australia.

Saturday 15th August - Morgan Supersprint.

Cancelled
Please note:
We are NOT planning a virtual Concours.

Here you will find the Criteria for Anniversaries

more details here..

.

Anniversaries will still be recognised in the Preserve so send your articles in.

We are working on exciting ways we can still be involved, and make a special event happen virtually.
Medallions for 2020 Shannons Sydney Classic
Will be available for Clubs with pre-orded tickets.
Details on distribution are listed below.
To all CMC Clubs,
Due to the current conditions surrounding COVID-19, the CMC Committee was left with no option but to cancel Shannons Sydney Classic (SSC) 2020.
With the cancellation, Clubs that have applied for SSC 2020 will have their current Applications automatically transferred over to SSC 2021, without the need to apply with a SSC 2021 Application Form, and your preferred Area will be saved for you.
For Clubs that request a refund and wish to attend SSC 2021, they would need to apply with a SSC 2021 Application Form issued after the March General Meeting 2021, with no guarantee that their favourite Area and location would still be available.
Clubs that request a refund must forward their request by e-mail to the Treasurer no later than the 14thAugust 2020: This email address is being protected from spambots. You need JavaScript enabled to view it.
As you can appreciate, planning for SSC, which is a major event, requires a number of tasks and one of those tasks was the ordering of the Medallions for 2020, which was carried out prior to COVID-19 and has subsequently been delivered.
The CMC Committee has decided those Clubs that have accepted the automatic transfer of their SSC 2020 Application being transferred to SSC 2021 will receive a complimentary SSC 2020 Collectible Medallion for each purchased ticket.
After the issue of the complimentary Medallions; those clubs that have requested a refund, have not yet booked, or for any Club or individual Club member, Medallions will be available to purchase at a cost of $5 each.
Details of the distribution of Medallions and the availability of excess Medallions will be published in the upcoming copies of the Preserve.
Lester H Gough
CMC Membership Secretary
From 1970 to 1980
CVVTMC Annual Concours D'Elegance
Awarded to the Best Club Team
1970 - Warwick Farm - Rolls Royce Owners Club
1971 - Warwick Farm - Rolls Royce Owners Club
1972 - Warwick Farm - Vetran & Vintage Chevrolet Auto Association
1973 - Warwick Farm - South Coast Vintage Car Club - Model A Ford - T. Wiggins
1974 - Warwick Farm - Vetran Car Club - 1903 De Dion Bouton - J. Thomson
1975 - Warwick Farm - Veteran Car Club - 1909 Renault - G. Williams
1976 - Warwick Farm - Buick Car Club - 1926 Tourer - D. McCredie
1977 - Warwick Farm - Buick Car Club - 1929 Phaeton - RJ Bates
1978 - Warwick Farm - Buick Car Club - 1929 Tourer - K. Bennett
1979 -
1980 - Canterbury Park - 1937 Packard - K.Gilbert
1981 - 2001 Retired
Recommissioned in 2002 by CMC
Awarded to the club with the most vehicles attending the Presidents Run
2002 - Mecedes Benz Club
2003 - Volvo Car Club
2004 - Model A Ford Club
2005 - Vintage Sports Car Club
From 2007
Awarded to a vehicle club making a significant contribution to
National Motoring Heritage Day
2007 - Humber Car Club
2008 - British & European Automobile Club Southern Highlands
2009 - Shoalhaven Historic Vehicle Club
2010 - Maquarie Towns Motocycle Restoration & Preservation Club
2011 - MG Car Club
2012 - British & European Auto Club
2013 - Morgan Owners Club
2014 - Alfa Romeo Club
2015 - Jowett Club
2016 - Central Coast Historic Car Club
2017 - Early Falcon Car Club
2018 - Central Coast Historic Car Club
2019 - Magic Metal Motoring Club
In Memory of George Roberts, OAM
Founder - Concours d'Elegance - Annual Display Day
Awarded to the Overall Winning Vehicle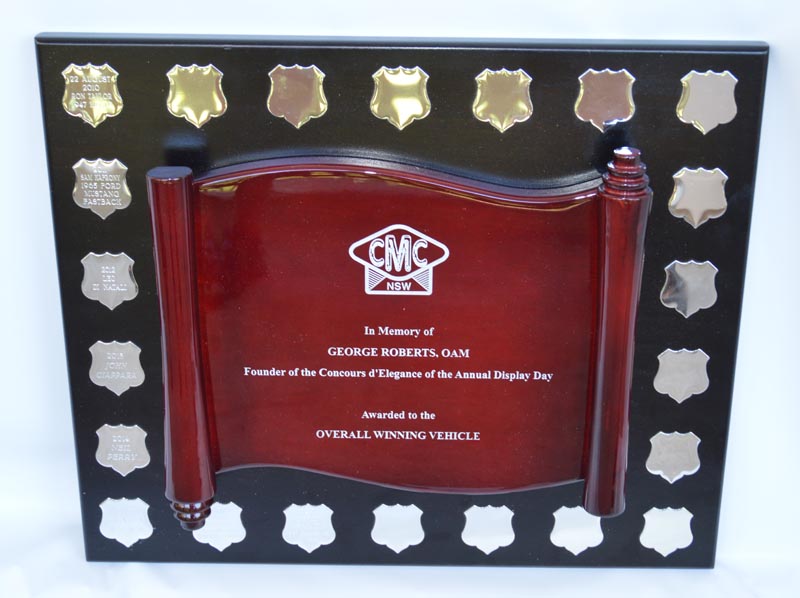 2010 - Ron Taylor - 1947 MG TC
2011 - Sam Kafrony - 1965 Ford Mustang Fastback
2012 - Leo Di Natali
2013 - John Ciappara - 1967 Ford Mustang
2014 - Neil Perry - Porche 911
2015 - Brendan Wagner - 1960 Goggomobil Dart
2016 - Paul Muras - 1995 Porche 928 GTS Coupe
2017 - David Armanini - 1967 Holden HR X2 Ute
2018 - Steve Xerri - 1954 Holden FJ Panel Van
2019 - David Berthon - 1913 Rolls Royce Silver Ghost
Presented by Rockdale Municipal Council
as the Australia Day Rally 1992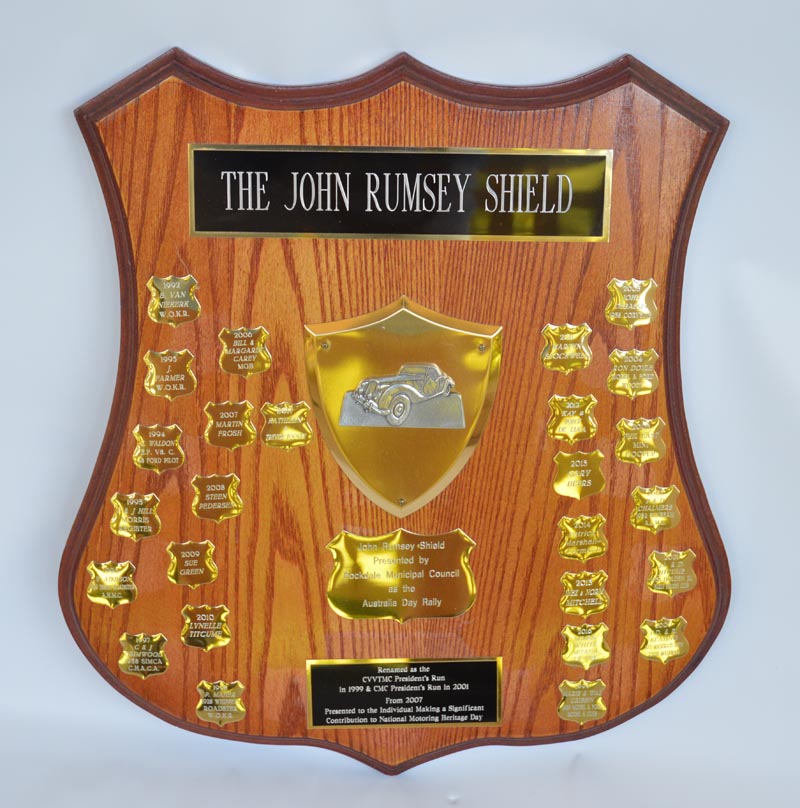 1992 - E. Van Niekerk - W.O.K.R.
1993 - J. Farmer - W.O.K.R.
1994 - C. Waldon - EF V8 Club - 48 Ford Pilot
1995 - P & J Hill - Morris Register
1996 - J. W. Atkinson - A.H.M.C - 1929 Essex Roadster
1997 - C & J Grimwood - C.H.A.C.A. - 1958 Simca
1998 - P. Maher - W.O.K.R. - 1928 Whippett
Renamed as CVVTMC President's Run 1999
Renamed CMC President's Run 2001
1999 - Marie & Wal Griffin - Model A Club - 1929 Model A Ford
2000 - P.D. & R. Keating - Club Maserati - 1971 Maserati Indy
2001 - J.L. & D. Titcume - 1958 Holden
2002 - P. & D. Chalmers - ACMC - 1932 Sunbeam
2003 - Phil East - Mini Cooper
2004 - DonDoyle - Ford Model A Woody
2005 - John Debassis - 1958 Corvette
2006 - Bill & Margaret Carby - MGB
From 2007
Presented to the Individual
Making a Significant Contribution to
National Motoring Heritage Day
2007 - Martin Frost
2008 - Steen Pedersen
2009 - Sue Green
2010 - Lynelle Titcume
2011 - Martyn Stockwell
2012 - Kay & Tony De Luca
2013 - Gary Beers
2014 - Patrick Marshal-Cormack
2015 - Inez & Norm Mitchell
2016 - Mark White - Museum of Fire
2017 - Kathleen & Trevor Toovey
2018 - Julie Williams
2019 - Mike Lipdcome
From 1972
Originally CVVTMC now CMC
Outright Motorcycle
In the Annual Concours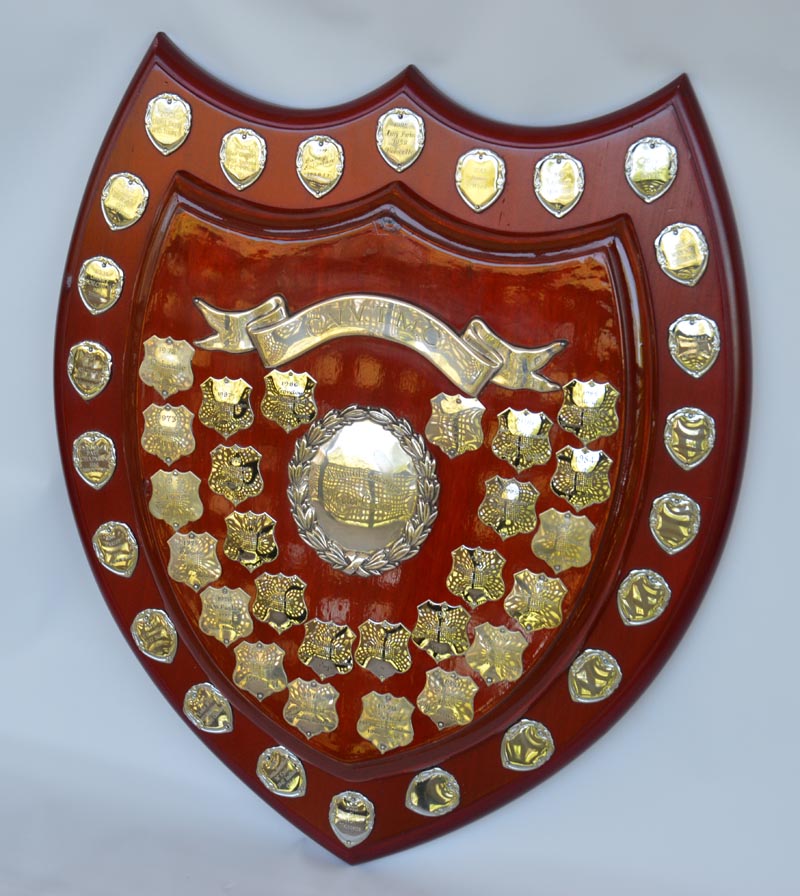 1972
- D. Liddle - 1912 New Hudson
1973
- J. Forrest - 1911 FN
1974
- J. Madsen
- 1938 Excelsior Manxman
1975
- C. Weiss
- 1926 Harley Davidson
1976
- M.W. Bigley
- 1937 Ariel Red Hunter
1977
- C. Daniel
- 1907 FN
1978
- J. Forrest
- 1929 Harley Davidson
1979
- J. Forrest
- 1930 Harley Davidson - 1960 BMW
1980
- M. Wakeham
- 1952 Melvern Star
1981
- M. Wakeham
- 1952 Melvern Star
1982
- Sid Napier
- 1918 Rover
1983
- B. Maxwell
- 1929 Harley Davidson
1984
- Sid Napier
- 1926 Douglas
1985
- Hugh Whitmore
- 1957 Douglas Dragonfly
1986
- Gordon McDonald
- 1926 BSA Outfit
1987
- F. Vanderloo
- 1928 Indian Scout
1988
- Graham Frond
- 1939 Panther
1989
- F. Vanderloo
- 1929 Indian Scout
1990
- D. Firkins
- 1917 Scott
1991
- P. Hodges
- 1926 Harley Davidson Pup
1992
- D. Firkins
- 1917 Scott
1993
- J. Forrest
- 1937 Brough Superior
1994
- Norm Gullick
- 1938 Indian 4 Outfit
1995
- Adam Grant
- 1937 G8 Matchless
1996
- Jim Carmody
- 1942 BSA WM20
1997
- Mick Brown
- 1924 Indian Big Chief
1998
- Harry Purkis
- 1959 Velocette
1999
- Danny Slomon
- 1928 TT Triumph
2000
- Alan Gaffney
- 1969 Yamaha TR2 350
2001
- David Higgs
- 1970 Triumph
2002
- Cris Wooley
- 1937 Motoguzzi
2003
- Garry Solomon
- 1928 Triumph
2004
- Garry Solomon
- 1934 Triumph 5/1 Colonial Model
2005
- Paul Chapman
- 1969 Velocette
2006
- C. Weiss
- 1926 Harley Davidson
2007
- E. Camilleri
- 1947 Norton ES2
2008
- Luke Wise
- 1952 Matchless G9 Superior Clubman
2009
- Garry Bennett
- 1947 Indian Chief
2010
- Colon Shennen
- 1937 Velocette
2016
- Tom Hall
- 1912 Triumph
2018
- Jim Carmody
- 1942 Harley Davidson WLA Military
2019 - Ray Smith
- 1942 Harley Davidson WLA