The CMC and our Member Clubs are aware of Covid-19.
Due to the extension of Covid Restrictions in the Greater Sydney Region, the CMC July General Meeting has been cancelled. Please check our Website and Facebook page regularly for updates, and for when our meetings will resume. (Issued 15th July)
We are monitoring the advice from Government and Health Authorities.
Many activities and events are being canceled or postponed, so check with the various event organisers.
The CMC will continue to communicate with Affiliated Clubs via:-
This site, our Facebook Page, The Preserve Magazine and Emails.
Please keep yourselves safe and follow the official guidelines .
Note: New venue for Committee and General Meetings. ........ more
CMC Delegates MUST REGISTER for a General Meeting - see below
CMC Meetings for 2021
Please note new meeting Venue
Strathfield Golf Club
52 Weeroona Road
Strathfield NSW 2135
General Meetings
2nd February
30th March
25th May
27th July Cancelled
28th September Cancelled
30th November
Delegates need to REGISTER for a General Meeting – please contact Karen Symington (email:

This email address is being protected from spambots. You need JavaScript enabled to view it.

) and advise that they will be attending the meeting as well as whether they will be dining at Strathfield Golf Club. This is necessary under COVID rules to assist the Club in providing adequate seating/space and also the club in catering requirements.
Upcoming events are usually in the general calendar section of this site.
Here you will find any last minute updates or notices.
OASIS RUNS 2019
5th March 2019
MEET: Edogawa Commemorative Japanese Gardens 10.30am to 11.00am
MORNING TEA: BYO morning tea or enjoy at Point Café
LUNCH: 12-30pm. Diggers at The Entrance, 315 The Entrance Rd. Long Jetty
PHONE LES: 9838 8063 MOB: 0418 973 866
2nd April 2019
MEET: McDonalds Picton 10.00am for 10.30 departure.
LUNCH: 12.00 noon Panorama House, 811 Princes Hwy. Maddens Plains (Bulli Tops)
BOOKINGS ESSENTIAL by Sunday 24th March 2019 *NO LATE BOOKINGS PLEASE*
PHONE BILL ROBERTSON: 4681 8767 MOB: 0408 064 153
7th May 2019
MID WEEK LUNCH CRUISE - Bass & Flinders Georges River Cruise
MEET: By 11.00am Sans Souci Wharf at Sans Souci Park off Rocky Point Rd.
CRUISE DEPARTS: 11.30am SHARP
CRUISE RETURNS: 2.30pm
COST: $39.00p.p. minimum 40 persons for a CLASSIC LUNCH: Details closer to date
BOOKINGS: Brian Heaton PHONE 9525 6119; email: This email address is being protected from spambots. You need JavaScript enabled to view it.
"BOOK NOW" with Brian & make arrangements for payment before Monday 8th April 2019
Please don't leave it to the last minute as Brian has already paid a deposit & full payment is required in advance for our booking.
12th November 2019
NEWINGTON ARMOURY
3rd December 2019
CHRISTMAS PARTY Nepean Rowing Club
On this page you will find some multi club events for the year.
If you want something listed please send in the details.
Shannons Sydney Classic 2021
*****
Click
on image for pdf flyer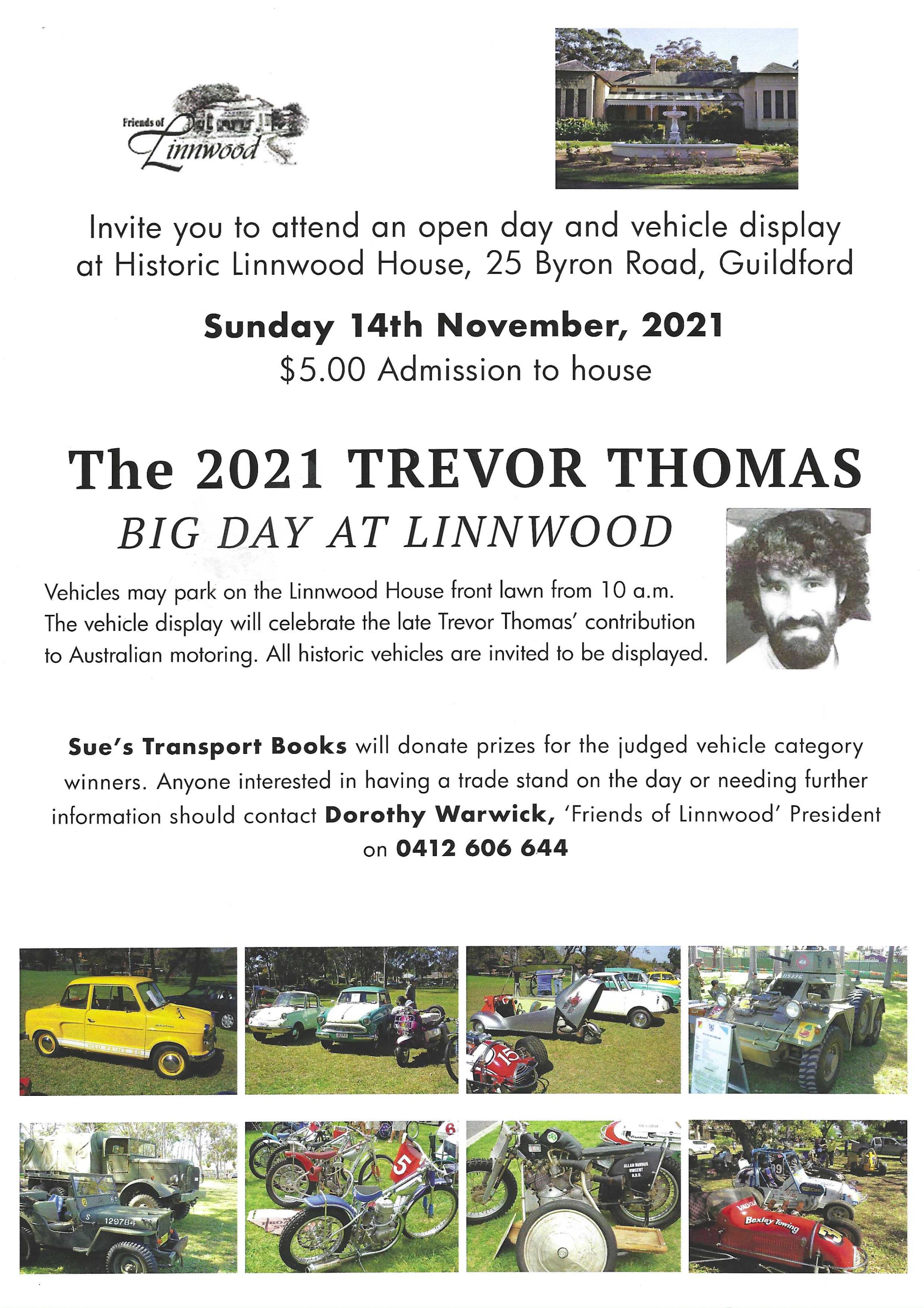 *****
Clarendon Classic 18th - 19th September 2021
SYDNEY ANTIQUE MACHINERY CLUB INC.
40A Racecourse Road, Clarendon, NSW 2756

click here for downlaodable PDF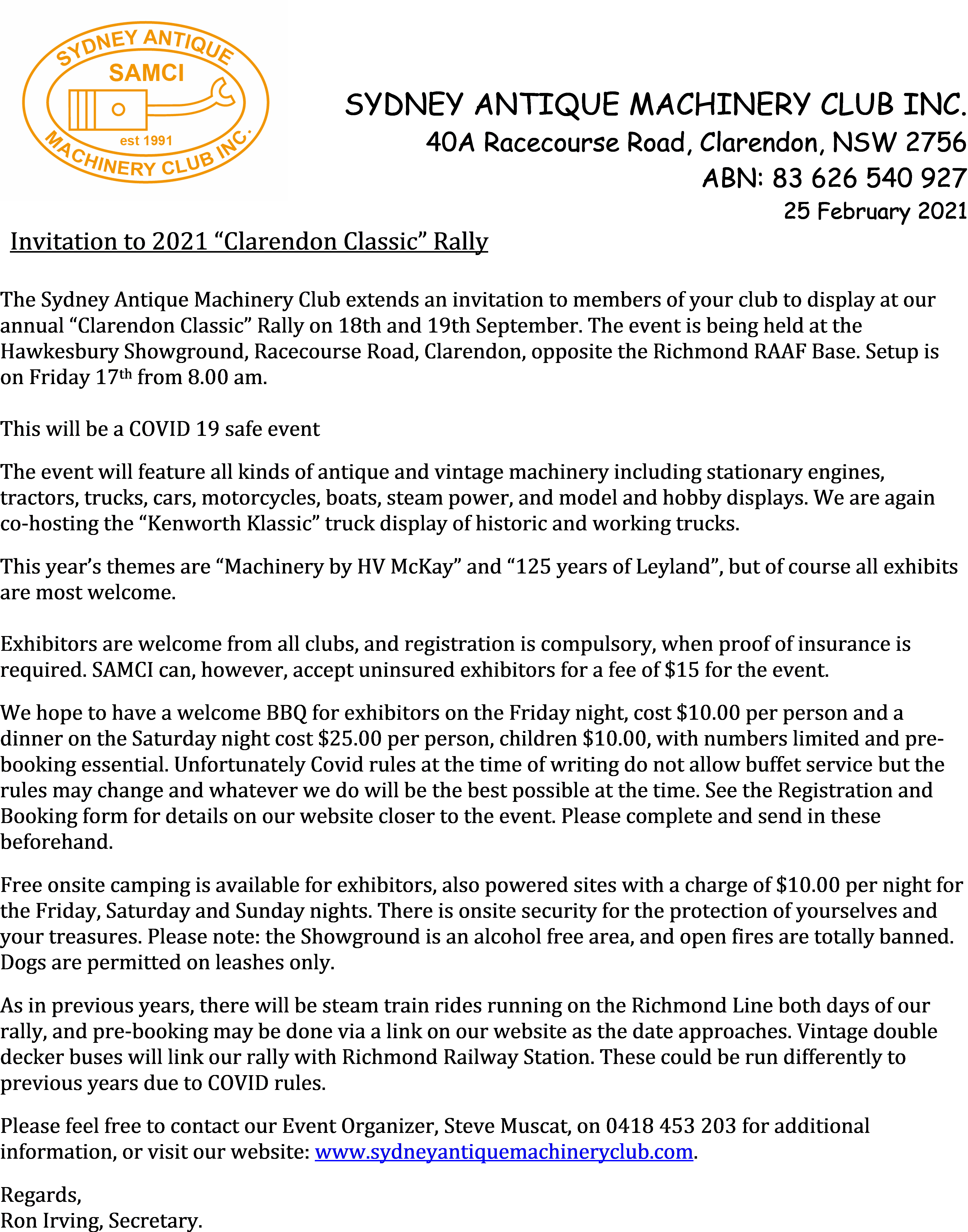 click here for club invitation
For information on any CMC tours please contact:
Lynelle Titc

ume
CMC Tours & Events Coordinator
Phone: 0422 513 256
Email: This email address is being protected from spambots. You need JavaScript enabled to view it.
Expressions of Interest 2020 Tour to AHMF Festival - Albury
click on graphic to load the form.